Our Eventing Team
At Cairn O'Mount Stables we have a strong focus on team. Susie works with each individual rider to set and reach achievable goals. We are proud of all of our students, whether their goal is to complete their first event or are focused to International competition. Riders are listed alphabetically by last name:
Amanda Beale Clement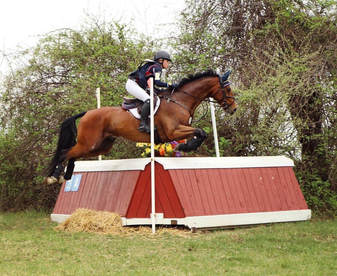 My name is Amanda Beale Clement and I am currently attending West Chester University. When my mom, Susie, found my first horse Small Wonder at the age of 11, I fell in love with foxhunting, then eventing and never looked back. In the Summer of 2014 my mom found Peter Pan, a 2003 Bay Thoroughbred. In 2015 Peter Pan and I competed at the North American Junior Young Rider Championship where we were part of the Area II Gold Medal Team. In 2016, I finished off my year completing my first CCI2* at Fair Hill International. In 2017, I moved up to Advanced and successfully completed my first CIC*** on my mount Get Ready. After a very successful season, we were named onto the 2018 USEF E25 Emerging Athlete Training List. I ride with COM because it is more than just a stable. It is my second home where I have grown as a rider and a person. There is no other trainer like my mom who cares so much about her students and their success. I have big dreams of following in my mom's footsteps and hopefully competing at the Rolex Kentucky Three Day and I hope to represent the United States on the Olympic team someday.
---
Olivia Hayes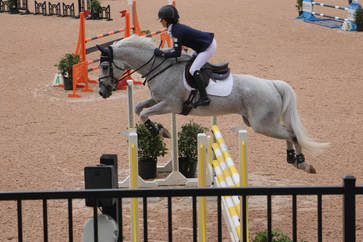 My name is Olivia Hayes and I am 16 years old, attending the Academy of Notre Dame de Namur as a Junior. I acquired the ride on Astrana de la Galerna, an ISH/Thoroughbred mare, at the start of 2018. We are already forming a strong partnership and I am so lucky to be able to ride such a talented and honest horse. We are planning to compete at the Preliminary/1* level this year and I am aiming towards a spot on the Area II NAJYRC 1* team. I have to credit my former mount, Beaujeste, a New Forest/Welsh pony, for making me into the rider I am today. Together we achieved great things, including receiving USEA 2016 Junior Training Rider and Training Horse of the Year. The year before, we won USEA 2015 Junior Novice Rider of the Year and Reserve Novice Horse of the Year. I also made the move up to Preliminary in 2017 with him going around clear in the jumping phases. I was also very lucky to be able to ride Peter Pan who taught me endless lessons and horsemanship. He was one of kind and I am very grateful for the opportunity to ride him. I have been with Susie for 9 years this coming summer. She has been my biggest mentor through the years and she has made me into the person I am today. Cairn O'Mount Stables is a special place where I find myself the happiest and it is like no other. My long-term goals include riding professionally at the 4* level and to represent the United States at the Olympics. I want to run my own barn someday and to train horses and riders to love the sport of Eventing. I know Susie will get me there, by guiding me through the hardships and successes of horses, teaching me horsemanship, and developing me into a better rider.
---
Dar Keyhani
| | |
| --- | --- |
| | My name is Dariush Keyhani. I am 17 years old and will be joining the class of 2021 at the Wharton School of Business at the University of Pennsylvania. I have competed a few times throughout 2016. I went to Aiken SC for the first time and completed my first Novice event with Susie's horse Calibe. In the fall of 2016, I began competing a horse named Topsy (Pictured left). We received 4th place at Full Moon, which was only the third time I had competed at the Novice level. I love riding with COM because there is no place like it. Everyone is like one big family that supports each other in every competition, both good and bad. There is also no other instructor like Susie. She knows exactly how to improve each student. She is very committed to every rider that she teaches. She is the only instructor that I know, that can tell how you jumped over a jump without even looking. |
Annabelle Kress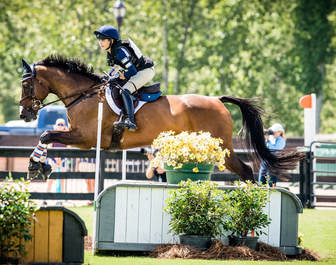 ​​My name is Annabelle Kress and I am in the Agnes Irwin School's Class of 2022. My horse, Cooley Streetwise, is a 16.2hh bay ISH gelding. "Liam" is one of the sweetest horses I have ever known and has the kindest and most gentle personality. In March of 2017 Susie found him for me, and I instantly fell in love with his floaty gaits and caring demeanor. I have been competing at the Novice level for the 2017 season, with plans to move up in Aiken of 2018. This summer, we traveled to Mill Spring, North Carolina to the Tryon International Equestrian Center for the American Eventing Championships, and Liam and I finished in the top 20 nationally! My greatest accomplishment of my riding career so far has to be winning the Jr. Beginner Novice 14 and Under division at the 2016 AECs with my old pony Batteries Not Included, who was additionally the 2016 Pony of the Year. Some of my goals for the future are moving up the levels and completing a 3* or even 4*; and although these goals seem far away now, I know that Susie will help me reach them! The number one reason why I ride at Cairn O'Mount Stables is because of the amazing coaching and supportive team behind me!
---
Katie Morey
My name is Katie Morey I'm 13 years old and currently going into 8th grade. I started riding at a hunter/jumper barn in Florida when I was 6. When I was 10 years old I moved to Pennsylvania and joined the Cairn O'Mount team and started eventing on my pony Peter. Currently I own a horse named Logan and we compete Novice. I was fortunate to find Logan who was already in the barn and being competed by Susie. The coolest thing about my horse is his attitude, no matter what I ask of him he's happy to oblige. For a while my goal was to complete my first novice before I turned 13, and with Susie's coaching I was successful. I enjoy eventing because of the 3 different ways it challenges me. I ride at Cairn O'Mount for the same reason, Susie and the other members of the team push me to do the best I can. I started eventing just 3 years ago and am very proud of how much I've grown as a person and a rider. When I first started at Cairn O'Mount, I was a 10 year old girl going starter, who's dream was to compete at Rolex. I still have the same goal but now I am a few steps closer thanks to Susie and the Cairn O'Mount team.
---
Madison O'Donnell
| | |
| --- | --- |
| | Hi my name is Madison O'Donnell and I am at The Academy of Norte Dame's Graduating class of 2019. My horse Curious George and I just recently joined Cairn O'Mount, but wow has been it been a huge improvement over such a short period of time. I began my riding passion when I was 3 years old with my grandmother who had trained horses her whole life. I joined pony club when I was 7 years old and am currently a C2. With pony club I got to travel up and down the east coast for eventing and championships. In April of 2015 I bought Paxton, he is a 2009 Quarter-horse. Paxton and I spent last winter in Ocala and explored the jumper ring. And then this spring, Paxton and I started novice level eventing and had a great year. I think our biggest achievement this year was doing The Classic Waredaca Three Day Event and finishing on my dressage score! My goal in Aiken is to move up to training and improve my dressage. I ride with COM because Susie has the best way of teaching I have ever seen. Within my first lesson she had improved so much and now a short while later I feel like I am riding a completely different horse. My long term dream is to compete a 2* and or 3* and with Susie I believe that this is possible. I am so lucky to be part of such a great barn, with some of the greatest people around and am amazing trainer like Susie! ​ |
Ali Scannell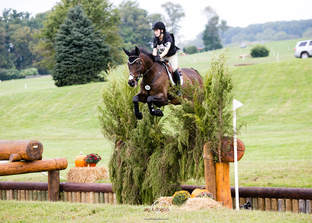 My name is Alexandra Scannell, and I will in Middlebury College's 2020 graduating class. I have ridden with Susie since 3rd grade, and have not met a more dedicated coach then or since. I began competing with Susie at Beginner Novice in 2013 and, in 2014, was the Junior Training Rider of the Year with my previous horse Epona, who was ranked second for all Training level horses. I now own a dark bay Irish Sport Horse named Faolan. Although I have had him for less than two years, we placed in the top three at the Preliminary level at the American Eventing Championships twice, and moved up to Intermediate this past summer and completed my first CIC2* at the Plantation Field International CIC this fall. Since I am now in college, I have spent a lot of time looking for good barns near promising colleges, and can honestly say that I have never once found a group of people so full of life, and so entirely dedicated to riding as I have found at COM. At the center of this team is Susie, and her continuous confidence and willingness to challenge us has done more for each rider than we would have thought possible. My goals for the next year or two are to successfully complete a CCI2*, and to move up to Advanced.
---
Claire Solomon
My name is Claire Solomon and I have been a part of the COM team for 4 years. I am 17 years old and I compete my horse Puck at the Training Level. Before coming to ride with Susie I had been riding for a number of years at a barn just up the road where my love of horses began. But I decided I wanted to start eventing, improve and compete. We bought my first horse, Digby, with Susie and I had him for almost two years. Digby taught me everything I know about competing. We competed in championships at Virginia Horse Park last year and ended 4th in Area II at the Novice level. He took from Beginner Novice to Training in less than two years! I now compete Puck, a 16 hand Thoroughbred and I have fallen in love with him already. He is a blast to jump and takes such good care of me on cross country. I have been privileged to be a part of the most amazing and talented group of riders, they are both some of my best friends and greatest supporters. This time next year Puck and I will be off to college and I know everything I learned from the COM team will stick with me forever. Not just what I learned in the saddle, but also the leadership and friendship I gained.
---
Sofia Suero
| | |
| --- | --- |
| | ​My name is Sofia Suero and I am part of Notre Dame's 2019 graduating class. I ride Susie's "Golden Anniversary" or as we like to call him, Ollie. Ollie is a 16hh chestnut thoroughbred with lots of heart and even more scope. I am so lucky for the opportunity to be able to ride and compete a horse as willing, kind, and talented as he is. Ollie and I just started our partnership in October and have already competed in a couple shows, and I am very excited to see how our partnership grows over time. I have already learned so much from him and cannot wait to see what more lessons he has in store for me. By far my highlight with Susie, who took me to my first competition, was competing at the American Eventing Championships with another of Susie's horses, Excalibur (Calibe). This 16.1hh chestnut Belgian warmblood and I were 12th after dressage in a division of over 50! This is just a year after starting at Susie's. With goals of competing to the 1* and maybe even further, I am so excited to see where the future takes me. Susie has not only completely changed who I am as a rider, she has changed who I am as a person. I am so grateful to be at a barn with such amazing people, horses, and opportunities.​ |
Devyn Trethewey
| | |
| --- | --- |
| | My name is Devyn Trethewey and I am part of the Downingtown STEM Academy's graduating class of 2018. I currently own and ride my horse "The Mojito King" otherwise known as Mo who is a 9 year old percheron/thoroughbred. My family and I purchased Mo about three years ago because I was looking for a horse that I could continually event with. We competed at the beginner novice and novice level for about 2 seasons and just recently moved up to training level in 2017 when I began training with Susie and became apart of the Cairn O'Mount event team. With Susie, Mo and I have grown together so much as a team and are moving towards many more great successes with the help of Susie and everyone else at Cairn O'Mount. In the future, I plan to continue riding through college and hopefully be able to compete at the 1* level. I am so lucky to have found such a great program with very compassionate and dedicated people such as Susie to train with and share my passion for eventing! ​ |
Elizabeth Welker-Ebling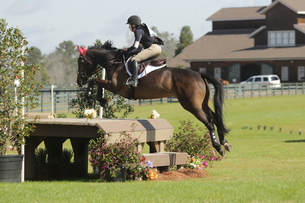 My name is Elizabeth Welker-Ebling and I'm in the 2019 graduating class at Conestoga High School. I currently own a 16.1hh Bay Westphalian Mare named Catchy Connection, though I usually call her CeCe. We compete at the Preliminary level after moving up in March 2018. Susie took me to try her in August of 2016 and I was instantly in love. It was the best day of my life when my parents said they would be willing to buy her for me. Before I got CeCe I had the privilege of owning and riding Batteries Not Included, the super pony who brought me into eventing. Batman taught me how to ride confidently and determinedly, and work for what I want. My short-term goal is to complete at least one 1* before I go to college, while my long-term goal is simply to compete at the highest-level I can; hopefully completing a 4* event someday. I've been riding at Cairn O' Mount since October of 2012. Susie has taught me so much in my years here, and continues to every day, including how to be both a better person and rider. I would not be the rider I am today without her, that's for certain. I can't even begin to imagine what my life would be like without Susie, CeCe, and the friends that I've made at the barn.
---
Megan Wilson
My name is Megan Wilson and I am currently enrolled at The Academy of Notre Dame de Namur and will graduate in 2019. My riding starts all the way on the West Coast in California where I rode at a small hunter/jumper barn. When I was in 7th grade, my mother changed jobs to the east coast and I had to go with her. When I first arrived to PA, the first thing we did was look for barns. I choose Susie's barn because I felt very well-taken care of and safe. I had a very small amount of lessons before my mother bought me my very first horse named BE Excalibur (Calibe). Susie is like a second mother to me, I feel so at home whenever I'm at the barn. I've made so many friends at the barn and I hope to make many more through riding. I currently am riding and competing two horses named BE Victory Dance (Victor) and BE Kilcorig Felix (Felix). My goal with riding is to become a rider that can ride a variety of horses, show for many years and compete at the 4 star level.

​

Bailey Yablonovitz
My name is Bailey Yablonovitz. In 2015, my first year in eventing, I was the USEA Jr. Beginner Novice Rider of the Year, and my horse, Fiddler, was the Area II top Thoroughbred. When I was 10 I began taking lessons with Susie at Carin O'Mount Stables. Susie is an amazing trainer because she is so supportive, encouraging, and helps each student reach their goals. In 2014 Susie found my dream horse, Fiddler, a 10 year old Thoroughbred. The day I got Fiddler was the happiest day of my life. He is such a great horse because of his sweet, loving personality and his willingness to please his rider. Down the road my long term goals are to hopefully go to Rolex and maybe even start a barn of my own someday. I feel so lucky to be a part of the COM team. It is my favorite place to be and where I spend all of my free time. The other girls who ride there have become my best friends. We all support each other through our triumphs and failures. It is my home away from home. If it were not for Carin O'Mount Stables I wouldn't have an amazing trainer, my best friends, or my dream horse.
---