Our Eventing Team
At Cairn O'Mount Stables we have a strong focus on team. Susie works with each individual rider to set and reach achievable goals. We are proud of all of our students, whether their goal is to complete their first event or are focused to International competition. Riders are listed alphabetically by last name:
Amanda Beale Clement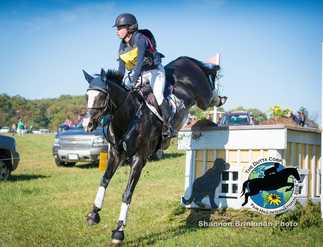 My name is Amanda Beale Clement and I am in The Academy of Notre Dame's 2017 graduating class. Before I began riding I tried every other sport. When my mom, Susie, found my first horse Small Wonder at the age of 11, I fell in love with foxhunting, then eventing and never looked back. In the Summer of 2014 my mom found Peter Pan, a 2003 Bay Thoroughbred. Peter is unlike any other horse. He is a phenomenal mover, a machine on XC and reliable in the show jumping. In 2015 Peter Pan and I competed at the North American Junior Young Rider Championship where we were part of the Area II Gold Medal Team. In 2016, we were 7th at The Poplar Place Farm HT and Fair Hill HT CIC2*'s. Then I finished off my year completing my first CCI2* at Fair Hill International. Most recently, I have been named onto the 2017 USEF U18 Training List. I ride with COM because it is more than just a stable. It is my second home where I have grown as a rider and a person. There is no other trainer like my mom who cares so much about her students and their success. My goal in 2017 is to complete another CCI2* and move up to Advanced level. I have big dreams of following in my mom's footsteps and hopefully competing at the Rolex Kentucky Three Day and I hope to represent the United States on the Olympic team someday.

---
Olivia Hayes
My name is Olivia Hayes! I am 14 years old in The Academy of Notre Dame's 2019 Graduating Class. I own a chestnut 14.3hh Welsh/New Forest named Beaujeste. We have been competing Training Level Eventing in the 2016 year. I came to Cairn O'Mount Stables when I was 8 years old. Susie found Beau for me in Aiken, 2015. I love him more than anything. I am so lucky to have this horse for many different reasons. My favorite things about him are his blue eye, big white blaze, and I love how he has so much scope he has for being so tiny. He is always willing to do more and is the funniest, yet kindest horse I've ever met. Cross-Country is our favorite phase! My biggest accomplishments are that in 2015 I won USEA Jr. Novice Rider of the Year, and Beau even won the Theodore O'Connor Trophy and was the USEA Pony of the Year. I am also very proud of becoming the 2014 Junior Beginner Novice Rider of the Year with my old pony, MJ. I have big dreams for the future. I want to move up to prelim with Beau in Aiken, 2017. I also want to be apart of the Area II NAJYRC team soon. I know Susie will help me reach these goals and will help me reach my dream of competing at big 4* competitions like Rolex in the future and become a professional horse rider and trainer, just like her. I ride with Cairn O'Mount Stables because I truly think it's the best barn ever. Susie is such an amazing instructor and I love how she takes the time to help each of her students reach their goals. She really cares about her students. Being apart of this team has changed my life. If it weren't for this barn, I wouldn't have Beau, I wouldn't have my best friends, I wouldn't have the experience to be a part of such an amazing team.

---
Dar Keyhani
| | |
| --- | --- |
| | My name is Dariush Keyhani. I am 17 years old and will be joining the class of 2021 at the Wharton School of Business at the University of Pennsylvania. I have competed a few times throughout 2016. I went to Aiken SC for the first time and completed my first Novice event with Susie's horse Calibe. In the fall of 2016, I began competing a horse named Topsy (Pictured left). We received 4th place at Full Moon, which was only the third time I had competed at the Novice level. I love riding with COM because there is no place like it. Everyone is like one big family that supports each other in every competition, both good and bad. There is also no other instructor like Susie. She knows exactly how to improve each student. She is very committed to every rider that she teaches. She is the only instructor that I know, that can tell how you jumped over a jump without even looking. |
Annabelle Kress
​My name is Annabelle Kress and I am in the Agnes Irwin School's Class of 2022. I have been leasing Batteries Not Included from Susie since August 2016. "Batman" is a 13.3hh white and chestnut medicine hat paint pony. He is so unique, in both his looks and his personality; and is truly one in a million. In the summer of 2016, Susie had me show Batman to boost my confidence and believed that we could be a winning combination. Cairn O' Mount traveled to the Tryon International Equestrian Center for the 2016 American Eventing Championships. After scoring a 26.5 in dressage and having one time penalty in show jumping, we ended up winning the Jr. Beginner Novice 14 and Under division and Batman was the top placing pony in any Beginner Novice division! We placed first in all but one event following AECs, and won our division at the Area II Championships as well. My greatest accomplishment of the year was winning the USEA Jr. Beginner Novice Rider of the Year, and Batman was the 2016 Pony of the Year for the Theodore O'Connor Trophy! Batman and I plan to take on Novice in Aiken 2017, and some of my goals for the future are competing at national and even international events such as the NAJYRC 1*/2**, Rolex Kentucky, or Badminton. Although these goals seem hard to reach now, I know that Susie will help me get there with time. Susie is an amazing coach who knows each student's individual goals and knows exactly how to help them progress as a rider, and horseman. Cairn O'Mount has such a sense of community and everyone supports each other like a big family. Waking up for that 4 A.M. load time doesn't seem so bad when your team is right there with you! In conclusion, Susie's dedication and hard work have helped my riding improve tremendously and I know that I have the most amazing group of people supporting me every step of the way.
---
Katie Morey
My name is Katie Morey I'm 13 years old and currently going into 8th grade. I started riding at a hunter/jumper barn in Florida when I was 6. When I was 10 years old I moved to Pennsylvania and joined the Cairn O'Mount team and started eventing on my pony Peter. Currently I own a horse named Logan and we compete Novice. I was fortunate to find Logan who was already in the barn and being competed by Susie. The coolest thing about my horse is his attitude, no matter what I ask of him he's happy to oblige. For a while my goal was to complete my first novice before I turned 13, and with Susie's coaching I was successful. I enjoy eventing because of the 3 different ways it challenges me. I ride at Cairn O'Mount for the same reason, Susie and the other members of the team push me to do the best I can. I started eventing just 3 years ago and am very proud of how much I've grown as a person and a rider. When I first started at Cairn O'Mount, I was a 10 year old girl going starter, who's dream was to compete at Rolex. I still have the same goal but now I am a few steps closer thanks to Susie and the Cairn O'Mount team.
---
Madison O'Donnell
| | |
| --- | --- |
| | Hi my name is Madison O'Donnell and I am at The Academy of Norte Dame's Graduating class of 2019. My horse Curious George and I just recently joined Cairn O'Mount, but wow has been it been a huge improvement over such a short period of time. I began my riding passion when I was 3 years old with my grandmother who had trained horses her whole life. I joined pony club when I was 7 years old and am currently a C2. With pony club I got to travel up and down the east coast for eventing and championships. In April of 2015 I bought Paxton, he is a 2009 Quarter-horse. Paxton and I spent last winter in Ocala and explored the jumper ring. And then this spring, Paxton and I started novice level eventing and had a great year. I think our biggest achievement this year was doing The Classic Waredaca Three Day Event and finishing on my dressage score! My goal in Aiken is to move up to training and improve my dressage. I ride with COM because Susie has the best way of teaching I have ever seen. Within my first lesson she had improved so much and now a short while later I feel like I am riding a completely different horse. My long term dream is to compete a 2* and or 3* and with Susie I believe that this is possible. I am so lucky to be part of such a great barn, with some of the greatest people around and am amazing trainer like Susie! ​ |
Ali Scannell
My name is Alexandra Scannell and I am in Baldwin's 2016 graduating class. I have ridden with Susie since the 3rd grade. Susie found my current horse, Epona (Po), for me in 2013. Po is a chestnut Hanoverian warmblood who was originally a high-level dressage horse. She was then taken Intermediate by Brittany Yard before I started with her at Beginner Novice. In 2014, I was the Junior Training Rider of the Year and Po ranked second for all Training level horses. Since then, I have moved up to the Preliminary level. I am a hippophile at heart and love Eventing in particular for its variability. Each competition, we memorize and ride a new stadium and cross-country course. I like that we place emphasis on learning the skills necessary to ride any course. I ride with COM because of Susie's continuous confidence and the dedication of the Cairn O'Mount Team. I ride only as a hobby, yet hope to do the best I can in the future. My chosen career path lies in research in Biology and Physics as well as in composing various creative writing pieces, and yet I that know horseback riding will remain a constant source of enjoyment throughout my life.
---
Claire Solomon
My name is Claire Solomon and I have been a part of the COM team for 4 years. I am 17 years old and I compete my horse Puck at the Training Level. Before coming to ride with Susie I had been riding for a number of years at a barn just up the road where my love of horses began. But I decided I wanted to start eventing, improve and compete. We bought my first horse, Digby, with Susie and I had him for almost two years. Digby taught me everything I know about competing. We competed in championships at Virginia Horse Park last year and ended 4th in Area II at the Novice level. He took from Beginner Novice to Training in less than two years! I now compete Puck, a 16 hand Thoroughbred and I have fallen in love with him already. He is a blast to jump and takes such good care of me on cross country. I have been privileged to be a part of the most amazing and talented group of riders, they are both some of my best friends and greatest supporters. This time next year Puck and I will be off to college and I know everything I learned from the COM team will stick with me forever. Not just what I learned in the saddle, but also the leadership and friendship I gained.
---
Sofia Suero
| | |
| --- | --- |
| | I am Sofia Suero and I am in the Notre Dame graduating class of 2019. I ride Susie's horse Excalibur, and we have created a great bond. Calibe has a sweet personality and has taught me so much in my few months at Cairn O'Mount. I started my riding career years ago and have never improved as much as I have in my recent time with Susie. Before riding with Susie I never knew how much potential I had as an eventer and as a person, in fact I had barely any confidence over jumps or in dressage. In my couple of months with Susie, I have already gone to my first ever event at Full Moon Farm! Cairn O'Mount is an incredible barn full of amazing people and horses! ​ |
Elizabeth Welker-Ebling
My name is Elizabeth Welker-Ebling and I'm in the 2019 graduating class at Conestoga High School. I own a 16.1hh Bay Westphalian Mare named Catchy Connection, though I usually call her CeCe. Susie brought me to try her out in August of 2016 and I was instantly in love with her. It was the best day of my life when my parents said they would be willing to buy her for me. I've been riding at Cairn O' Mount since October of 2012. Susie has taught me so much in my years here and continues to every day, about how to be both a better person and rider. I would not be the rider I am today without her, that's for certain. I can't even begin to imagine what my life would be like without Susie, CeCe, and the friends that I've made at the barn.


---
Bailey Yablonovitz
My name is Bailey Yablonovitz and I am 14, going into 8th grade at TE Middle School. In 2015, my first year in eventing, I was the USEA Jr. Beginner Novice Rider of the Year, and my horse, Fiddler, was the Area II top Thoroughbred. When I was 10 I began taking lessons with Susie at Carin O'Mount Stables. Susie is an amazing trainer because she is so supportive, encouraging, and helps each student reach their goals. In 2014 Susie found my dream horse, Fiddler, a 10 year old Thoroughbred. The day I got Fiddler was the happiest day of my life. He is such a great horse because of his sweet, loving personality and his willingness to please his rider. Down the road my long term goals are to hopefully go to Rolex and maybe even start a barn of my own someday. I feel so lucky to be a part of the COM team. It is my favorite place to be and where I spend all of my free time. The other girls who ride there have become my best friends. We all support each other through our triumphs and failures. It is my home away from home. If it were not for Carin O'Mount Stables I wouldn't have an amazing trainer, my best friends, or my dream horse.
---