Susie's Horses
Susie maintains horses in the stable for competition, resale, and in a special case- retirement. Below are some of the horses Susie owns and/or competes:
Ardeo Kodaline
Kodie, as he is known in the stable, is a young Irish Sport horse who began eventing just last season.

Kodie has a puppy dog personality... His fondness for people and great attitude both on the ground and under-saddle has won over Susie and our staff alike.

In his first four events, he completed one Novice and three Trainings. He even finished the season with an impressive 2nd place finish at Full Moon Farm in the Training. We're very excited about what is in store for this guy.
---
Isabella II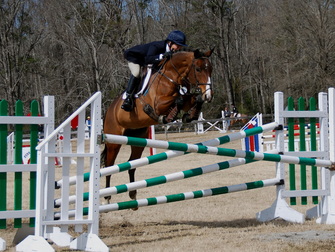 In describing her relationship with Isabella, Susie has said simply "we were partners out there." A sentiment many riders at the top of the sport have felt when having the privilege to compete a special horse.

​Susie purchased Isabella from her father, Maj. Jeremy Beale, and with Susie's careful training went on to compete on the world stage of eventing. Their accomplishments include top placings at Advanced, success at multiple CCI** and CCI*** events, and even making it to Rolex. Susie would say Isabella answered the call at every ask, and Isabella would say that Susie gave her a love of the sport and desire to work every day. So much so, that Isabella went on to take Amanda (Susie's daughter) Training, Chris Adair to her first event ever at Novice, and Gillian (Susie's daughter) to her first Intermediate and CIC**. Isabella even has winning ribbons from Devon and Harrisburg. She now does dressage with Chris, earning her rider a USDF Bronze Medal in four competitions. She has been a cornerstone of our journey, and the relationship between Susie and Isabella has been an example for our students who hope to one day find the same successes.
---
Peter Pan
Peter Pan is owned and trained by Susie and competed by her daughter Amanda at the Preliminary level. Peter and Amanda have many top placings at the Preliminary level, and have competed Internationally at the CIC* and CCI* level. This year, the pair made it to NAJYRC, otherwise known as the Junior Olympics, in Kentucky, where they won Team Gold. Amanda and Peter Pan continue to impress and continue their journey up the ranks. We're very excited to see what is in store....
---
Celtic Heritage
Celtic Heritage was competed by Susie Beale in 2014 & 2015 while owned by Lesley Collins.

​Before selling him on to one of our students, Susie competed him at the CIC* level, earning a second place finish at Pine Top. We were thrilled to keep him in the on the team, now owned by the Morey's and competed by Katie.
---
Isn't She Cute
The list would not be complete without an honorable mention to, as Jill Apfelbaum so aptly put it, "the pony that taught half of the kids in Chester County how to ride".

​Issy is owned by Susie, and has been a staple in the program as long as anyone can remember. In her day, she was a fancy "A" show pony. Since then, she has taught lessons, done summer camp, and happily packed around child after child to events, horse shows, fox hunting, and about town. She is retired now, with her favorite part of the day being the eating grass with her long time friend Isabella.
---